Where are they? Remembering Missing and Murdered Land Defenders
---
J. Ellis
#environment
We realized shortly before entering 2022 that we would be remiss if we did not document and discuss the Global Witness report that came out in September 2021. Perhaps you've seen the headlines:
"Murders of environment and land defenders at record high"

September 13, 2021 –The Guardian
"It Was The Deadliest Year Ever For Land And Environmental Activists"

September 13, 2021 –NPR
Or read the report itself. Scrolling through web page after web page of search results pertaining to the report, one thing is obvious— the news coverage and media attention is nothing compared to the coverage of the infamous Gabby Petito case, which hit the headlines the same week as the annual Global Witness report.
The Global Witness report was almost entirely discussed by independent, left-wing media groups, and momentum in relation to it dissipated in a matter of a few weeks.
Meanwhile, searching the name "Gabby Petito'' turns up results from major media outlets from as recent as a few days ago. Some journalists and scholars have already pointed out the phenomena called "missing white women syndrome," emphasizing the colonial disparities evident when investigating the disappearances and murders of cisgender Caucasian women in comparison to missing and murdered Indigenous women and POC in general.
Only a couple months after the release of the Global Witness report, The Guardian published an article about Oaxacan land defender Irma Galindo Barrios, reported missing in late October 2021 after she didn't attend a scheduled virtual meeting that aimed to instate governmental mechanisms for protecting journalists and land defenders.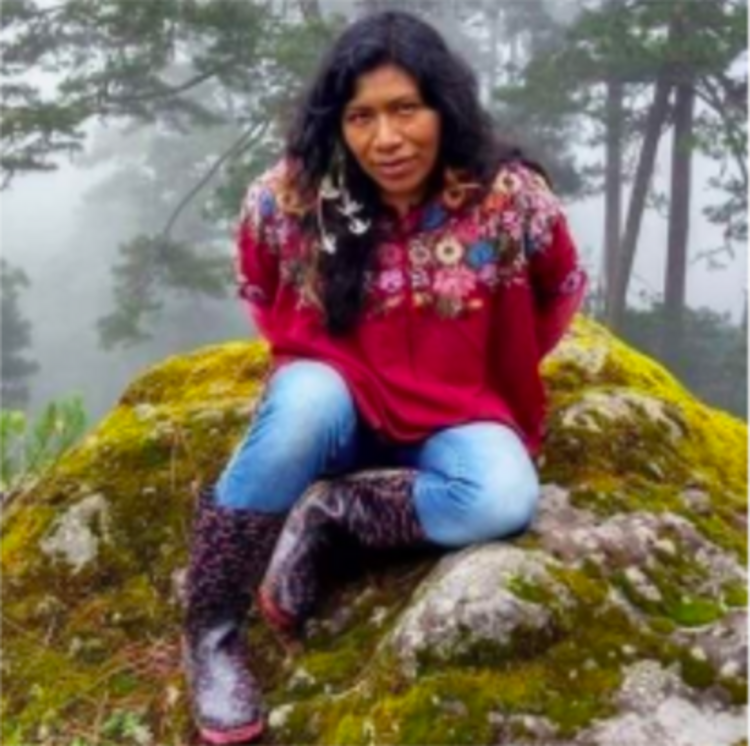 Photo: Irma Galindo Barrios, courtesy of The Guardian.
Her disappearance is speculated to coincide with a series of attacks against her home municipality in late October, where over a period of three days a group of 70 heavily armed people raided several villages whose residents were fighting against deforestation. Aside from a little hubbub for a week in November, her name hasn't been mentioned in a headline since. Her fate is still unknown. The 2021 report brings to light the disparity in privilege and representation between Western and Global South environmentalists.
Key findings reveal shocking statistics: globally 227 forest, water, and ecosystem defenders were killed in 2020. All murders took place in the Global South. This is a conservative estimate, since counts are dependent on the transparency of governments and media across the world. The 227 figure is the highest number of defender deaths on record, breaking the record from the 2020 report where a record 212 activists were killed in 2019. These findings indicate that there have been an average of 4 murders per week since the signing of the 2016 Paris Accord.
Worse yet, over a third of these killings were Indigenous land defenders, highly disproportionate considering Indigenous people make up 5% of the world's population. In all, the rate of murders in the Global South has doubled since 2013.
We're hardly into 2022 and there have already been more reports of targeted killings in Central and South American nations, casting an omen of what's to come as the climate crisis intensifies and resource conflicts along with it. The Guardian contributes to most of the coverage of these crimes, publishing an article on January 13, 2022 about a Brazilian family of turtle breeders found shot to death in their home, in the Amazonian state Pará.
In the 2021 report, Brazil was recorded as the nation with the 4th highest murder rate, with a total of 20 activists who lost their lives defending their land. Here we are, three weeks into 2022 and we already have three more names to add to the tally: José Gomes, Márcia Nunes Lisboa, and their teenage daughter Joane Nunes Lisboa. Indigenous people are deliberately targeted so that capitalists and corporations can get rid of the main obstacle to their acquisition of profit: the people who have native claim to the land and its resources who are willing to give their lives to defend it.
Yet another Indigenous life has already been taken in 2022, Indigenous Lenca leader Pablo Isabel Hernandez was shot to death on his way to church with his family. This murder occurred a little over a year after the death of Juan Carlos Cerros Escalante, another member of the Lenca group shot dead in March 2020.
The Lenca group has historically been targeted for their efforts to resist colonial damming projects and other forms of environmental degradation in Honduras. Perhaps you remember the headlines from 2016 about the murder of Berta Caceres, a Goldman Prize recipient and Lenca woman who led a successful movement against damming in her native Honduras. These murders showcase how members of the Lenca group and many other Indigenous peoples are paying the ultimate price for their efforts to protect the irreplaceable.
This trend in loss of life demonstrates the callous entitlement of corporations, and is sure to continue as long as disaster capitalism persists. I dread what the next Global Witness report will have to say.
Global South environmental activists and their communities are disproportionately facing the brunt of the consequences of both climate change and the corporate greed driving it. While corporate seizure of resources and land have existed everywhere since the dawn of capitalist and colonial systems, we know and acknowledge that the impacts are not evenly distributed.
There is a level of privilege operating in Western countries that provide protections to modern-day land defenders that do not exist in many other parts of the world. The December 2021 issue of The Student Insurgent celebrated the various successes of Lane County forest defenders here in Oregon. The group of activists that led the movement were primarily of settler-descent, and we had the power of the law behind us as we challenged logging operations in the Willamette National Forest— at one successful occupation in the Breitenbush Watershed, I met and talked with at least three distinguished lawyers from the Willamette Valley region, some from the CLDC.
With that type of money and power involved in these actions, we felt assured that we had relative immunity to state and corporate pushback. To many of the participants, the intensity of the actions from that week are a rare occurrence, in part due to the planning it requires; but I assert that this is also due to the fact that none of us directly depend on that land for physical wellbeing and cultural survival day-in and day-out.
Most of us drove more than an hour and a half out from Eugene to this remote area along Hwy 126—unlike many activists around the world, this was not our home we must compulsively defend.
However, I couldn't help but note the irony of a group of majority settler- descent activists occupying already colonially occupied native territory to fight for its protection. The stakes for us here in so-called "Oregon," are meager compared to the risks that activists in the Global South face on a daily basis.
We are fortunate that we don't have to fear for our lives, that we possess the social capital necessary to stand up to economic capital, and that this isn't a daily fight for our very livelihoods, but rather an ecocentric stance that we can pick-and-choose when we want to take the time to demonstrate.
It is worth reminding that of the 227 deaths recorded in 2020, not a single American or Canadian land defender went missing or was murdered.
So what is to be done about this blatant disparity? How can activists in the Global North demonstrate solidarity with those with less protections elsewhere?
At present, there seems to only be lukewarm solutions to this problem, like long-winded policy battles in undemocratic nations, or a push for more "visibility," a vague term that usually amounts to little tangible improvements.
But I concede that a good place to start is to address the transparency and representation (or lack thereof) of these issues in Western media. As I've demonstrated, the majority of the news media about missing and murdered environmental activists are covered by the minority independent and progressive-leaning media groups like The Guardian, Democracy Now! and Liberation. You don't see these headlines often enough in the Associated Press, CNN, Fox News, NBC News, or The Washington Post, for example (although, in some ways, this might be for the best considering the embedded biases driven by profit incentives in neoliberal media).
In order for this issue to become a topic of discussion in every household, we need it to transcend its reliance on a few savvy and committed investigative journalists.
Instead, I'd like to see every true-crime fanatic on Youtube talking about this as much as they talk about missing and murdered white women and other suburban tragedies; I want to see the Diane Sawyers of the world devote their prime-time broadcasts to this crisis, and I want to see a world where news-media is no longer corporate, profit-driven, and enshrined in capitalism so that the topics that truly matter are represented as such.
In the age of information, there is no reason that issues like this should slip through the cracks. The fact that they do shows the cognitive dissonance that separates Western privilege from Global South struggle. Let's begin by saying their names, and do not stop until justice is brought to every land defender on Earth.
All statistics provided by the 2021 Global Witness Report